It's hard work being a Trending Topic on Twitter 24/7, but Justin Bieber's no slacker. He's likely up at the crack of noon every day, doing whatever it is that pubescent Canadians do; mostly just being awesome.
But think about all the deserving topics that
don't
trend on Twitter simply because Justin Bieber (or "The Bieb," as I've come to know him) marches unflinchingly forward in his ruthless quest for Internet subjugation.
I posed this thought experiment to my six Twitter followers:
And they responded in kind:
via
@William Herbert
via
@YA_RLY
via
@thekelliejane
via
@_doodlebop
via
@AronKyle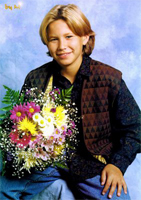 In reference to Jonathan Taylor Thomas, God rest his soul, via
@LaurenLaCapra

via
@DaveHarper1888
Clearly, there are a lot of pressing issues that are not being addressed on Twitter because of Justin Bieber's unceasing charm! What can be done?
Well, as John Lennon once said, "Imagine there's no [Bieber]. It isn't hard to do."
But whatever you do, don't get all freaked out about it like this crybaby.
Special thanks to
@Erica327
for bringing this video to my attention.
Share this crap: